Research Themes
Modeling and Simulation of:
Advanced manufacturing
3D printing systems
Multiphase/composite material behavior
Fire propagation and control with the Fire Research Group
UAVs and swarms
Biological systems
Ballistic fabric shielding
Advanced manufacturing of food with the Food Manufacturing Group
Methods of Analysis
Discrete Element Methods
Finite Element Methods
Finite Difference Methods
Computational Optics
Machine-Learning Algorithms
Agent-Based Methods
Brian Howell
Materials Optimization & Discovery
After receiving his B.S. in Chemical Engineering from Brigham Young University, Brian worked at Lawrence Livermore National Laboratory Read More
as a research engineer developing radiative-curing materials for advanced manufacturing techniques. As a PhD student in the Mechanical Engineering department, Brian is interested in process & materials optimization and numerical simulation of additive manufacturing processes. In his spare time, Brian enjoys running very long distances and reading.
About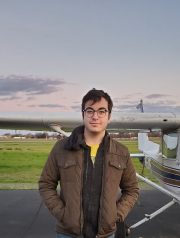 Emre Mengi
Manufacturing Process Optimization
Emre is a Mechanical Engineering PhD student at UC Berkeley with B.S. in Mechanical Engineering and Aerospace Science & Engineering from UC Davis. Read More
Emre's previous research experience includes Direct Energy Deposition process optimization and powder flow visualization for additive manufacturing processes. His research interests include manufacturing process optimization and computational modeling of manufacturing systems. In his free time, Emre enjoys learning new languages, playing flight simulators, and alpine skiing.
About
Omar Betancourt
Agent-Based Modeling and Optimization
Omar is a PhD student in Mechanical Engineering co-advised by Prof. Kosa Goucher-Lambert. Read More
His research interests include the use of agent-based modeling/simulation and optimization. He graduated from Boise State University with a B.S. in Mechanical engineering. In addition, Omar enjoys discovering new foods, indoor gardening and forcing his cat to spend time with him.
Maya Horii
Modeling of Materials and Manufacturing Processes
Maya is a PhD student in Mechanical Engineering co-advised by Professor Tarek Zohdi and Professor Grace Gu. Read More
Maya's research interests are in modeling and optimization of materials and manufacturing processes. Outside of the lab, Maya enjoys doing ballet and going for walks.
Abdullah Alrashdan
Abdullah holds a B.S and M.S in Mechanical Engineering from LMU. While pursing his M.S degree, his research focused on Design for Additive Manufacturing Read More
and 3D printing of biocompatible materials for medical applications. Prior to joining UC Berkeley, he worked as an Additive Manufacturing Engineer for a couple companies in Southern California.
Carla Becker
Simulation and Optimization of Manufacturing Processes
Carla is a Ph.D. student in Mechanical Engineering with an M.Eng. in Materials Science and Engineering from UC Berkeley, and a B.S. in Physics and a B.S. in Chemistry from Harvey Mudd College. Read More
Before coming to UC Berkeley, she worked as a product engineer at Sakuu Corp., a startup developing a platform to 3D print solid-state batteries. While there, she developed new materials processing techniques, handled materials characterization, brought new equipment online, and led a program to develop a manufacturing execution software with machine learning capability. Outside of work, Carla enjoys running, yoga, dancing, and book clubs.
Aidan Gould
Aidan is a MS/PhD student advised by Prof. Zohdi. He is interested in multiphysics simulation for aerospace applications. Read More
Before entering the PhD program at UC Berkeley, Aidan earned a BS in mechanical engineering from Northeast University. He has had internships at Pratt and Whitney (induction heating modeling for manufacturing), Mesodyne (thermophotovoltaic start-up), and ATA Engineering (thermal modeling of spacecraft battery systems). On breaks, he enjoys all things outdoors especially rock climbing and snowboarding.
Mostafa Sedky
Mostafa is a MS/PhD student in Mechanical Engineering. He received his B.S. in Mechanical Engineering with a concentration in design and a minor in Physics from the American University in Cairo (AUC). Read More
Before joining UC Berkeley, he worked as a Research Assistant at AUC where he worked on the design, fabrication, and control of 3D printed micropumps, a mechanical ventilator, and a crawling quadruped. He has also had internships at Oxford Instruments Plasma Technologies and BMW. In his free time, Mostafa enjoys scuba diving, building lego sets, and tinkering with 3D printers.
Tommy Hosmer
Tommy Hosmer is a PhD student in mechanical engineering advised by Prof. Tarek Zohdi (ME). Read More
Tommy received his B.S. in Environmental Engineering Science from UC Berkeley in 2023. His research interests are in modeling renewable energy systems. Outside of the lab, Tommy enjoys surfing and mixed-martial arts.