Research Themes
Modeling and Simulation of:
Advanced manufacturing
3D printing systems
multiphase/composite material behavior
fire propagation and control with the Fire Research Group
UAVs and swarms
Biological systems
Ballistic fabric shielding
Advanced manufacturing of food with the Food Manufacturing Group
Methods of Analysis
Discrete Element Methods
Finite Element Methods
Finite Difference Methods
Computational Optics
Machine-Learning Algorithms
Agent-Based Methods
Nicolas Castrillon
Toolpath Planning for Additive Manufacturing
Nicolas is an M.S./Ph.D. student interested in new technologies for advanced manufacturing, such as Additive Manufacturing. Read More
After receiving his B.S. in Mechanical Engineering from the University of Florida, he worked at GE as a mechanical design engineer in the consumer products, gas turbine power generation, and oil & gas industries. Outside of his work, he enjoys playing soccer, rock climbing, and road biking. There is nothing better for him than to be out in nature.
About
Zachary Yun
Multi-physics Modeling of Advanced Manufacturing Processes
Zack is an M.S./Ph.D. student interested in optimization of advanced manufacturing processes through computational modeling combined with experiments.Read More
Before entering the grad program at UC Berkeley, he received his B.S. in Mechanical Engineering from Cal Poly SLO and then worked as a manufacturing engineer for Haas Automation supporting varied manufacturing processes in the machine shop through tooling/fixture design, experimental process development, and robotic/automation projects. Outside of research, Zack enjoys spending time outdoors hiking, backpacking, surfing, and going to watch baseball and hockey games.
About
Roger Isied
Modeling and Simulation of Laser Sintering for 3D printing
Roger is a Ph.D. student in Mechanical Engineering with a B.S. in Mechanical Engineering from UC Berkeley. Read More
His previous research experience is in photocuring manufacturing processes and mechanical testing of additively manufactured specimens. Outside of research, Roger enjoys playing basketball, volleyball, and hiking.
About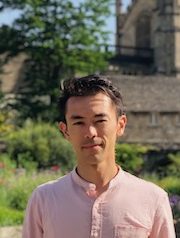 Brian Howell
Dynamic Optimization for Advanced Manufacturing Methods
After receiving his B.S. in Chemical Engineering from Brigham Young University, Brian worked at Lawrence Livermore National Laboratory Read More
as a research engineer developing radiative-curing materials for advanced manufacturing techniques. As a PhD student in the Mechanical Engineering department, Brian is interested in process & materials optimization and model predictive control of additive manufacturing processes. In his spare time, Brian is an avid endurance athlete.
About
Payton Goodrich
Design and fabrication of biodegradable sensor nodes
Payton Goodrich is a PhD student in mechanical engineering co-advised by Prof. Tarek Zohdi (ME) and Prof. Ana Arias (EECS).Read More
Payton received his B.S. in Mechanical Engineering from Iowa State University in 2015 and his M.S. in Mechanical Engineering from UC Berkeley in 2018. His research interests are in printed electronics, wearable devices, and environmental sensors. Outside of the lab, Payton enjoys stand-up comedy, mixed-martial arts, and backpacking.
Omar Betancourt
Agent-Based Modeling and Optimization
Omar is a PhD student in Mechanical Engineering co-advised by Prof. Kosa Goucher-Lambert. Read More
His research interests include the use of agent-based modeling/simulation and optimization. He graduated from Boise State University with a B.S. in Mechanical engineering. In addition, Omar enjoys discovering new foods, indoor gardening and forcing his cat to spend time with him.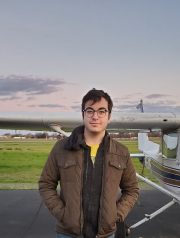 Emre Mengi
Manufacturing Process Optimization
Emre is a Mechanical Engineering PhD student at UC Berkeley with B.S. in Mechanical Engineering and Aerospace Science & Engineering from UC Davis. Read More
Emre's previous research experience includes Direct Energy Deposition process optimization and powder flow visualization for additive manufacturing processes. His research interests include manufacturing process optimization and computational modeling of manufacturing systems. In his free time, Emre enjoys learning new languages, playing flight simulators, and alpine skiing.
About
Maya Horii
Modeling of Materials and Manufacturing Processes
Maya is a PhD student in Mechanical Engineering co-advised by Professor Tarek Zohdi and Professor Grace Gu. Read More
Maya's research interests are in modeling and optimization of materials and manufacturing processes. Outside of the lab, Maya enjoys doing ballet and going for walks.
Abdullah Alrashdan
Abdullah holds a B.S and M.S in Mechanical Engineering from LMU. While pursing his M.S degree, his research focused on Design for Additive Manufacturing Read More
and 3D printing of biocompatible materials for medical applications. Prior to joining UC Berkeley, he worked as an Additive Manufacturing Engineer for a couple companies in Southern California.
Master of Engineering Students
Digital twin construction and machine-learning of aerial fire fighting for enhanced performance and pilot safety
Our project focuses on optimizing aerial firefighting by improving pilot safety while increasing the effectiveness of aerial fire retardant drops. Drawing on Professor Tarek Zohdi's research on agent-based modeling and fire propagation/control, we developed a genetic algorithm to pinpoint the flight parameters that make aerial firefighting the safest and most effective. Additionally, we conducted extensive user research within the aerial firefighting community to determine the most critical environments in need of optimization. Based on this information, we encoded a simulated environment in which we can test the genetic algorithm in each of these critical use cases. Ultimately, we hope to provide the most ideal in-flight parameters that pilots should use to conduct aerial firefighting, thus improving safety for all affected by wildfires.
Rapid agent-based machine-learning models for multi-UAV path planning
We create an agent-based ML algorithm for path planning for Unmanned Aerial Vehicle (UAV) swarms. This algorithm will enable UAV swarms to have multiple independent center points, each with a potentially unique path. In turn, this will ensure the level of robustness and efficiency necessary for deploying UAVs in the field with minimal costs and in real-time.
Lizzette Corrales
Lizzette is an undergraduate studying Mechanical Engineering interested in pursuing a PhD and becoming a professor. Read More
She is funded under the McNair Scholars Program and is guided by Omar Betancourt, another member of the MSOL group. Apart from academics, she enjoys working out, playing guitar, and home improvement.